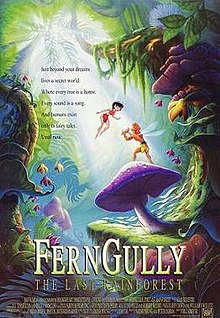 FernGully: The Last Rainforest
is a 1992 Australian-American animated musical fantasy film, directed by Bill Koyer and adapted from the book of the same name by Diana Young. It was produced by Kroyer Films, Inc., Youngheart Productions and FAI Films and distributed by 20th Century Fox. It was released on April 10, 1992 in North America and August 27, 1992 in Australia.
Why It's Great
Edit
It teaches its audience to protect and respect the environment and species living there. Actually, it does a way better job of it than most other films, which tend to use it at the last minute in an attempt that feels forced and lazy
Beautiful animation, especially on Hexxus
A terrific voice cast, including Robin Williams, Tim Curry, and Christian Slater. People can give credit to Aladdin and Shrek all they want, this is the animated film that kickstarted the tradition of having celebrities in animation, and this movie came out before either of those two
Decent songs, like "Batty Rap", "Raining Like Magic" "A Dream Worth Keeping", and especially "Toxic Love"
Some pretty memorable characters, such as Batty Koda and Hexxus
External Links
Edit
FernGully: The Last Rainforest on IMDb
FernGully: The Last Rainforest on Rotten Tomatoes
Community content is available under
CC-BY-SA
unless otherwise noted.