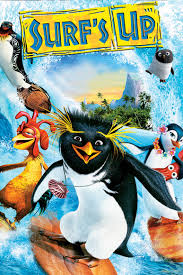 Surf's Up is a 2007 American computer-animated mockumentary comedy film directed by Ash Brannon and Chris Buck. It was produced by Sony Pictures Animation and distributed by Columbia Pictures, and released on June 8, 2007.
Why It's Great
Edit
Despite coming out after so many other films about penguins, this one actually stands out from the others by being presented in a documentary-like format that is like a series of interviews
It takes its time fleshing out the characters, exploring their history and explaining how they got to where they are now. This, coupled with the presentation of the characters being followed by a camera crew, brings out a sense of reality that gives a fresh feeling to a familiar story
The animation is gorgeous, by far some of the best to come out of Sony Animation. Everything on Pen Gu Island is luscious and tropical, and makes it look like a place that would be worth visiting if it ever existed
External Links
Edit
Surf's Up on IMDb
Surf's Up on Rotten Tomatoes
Community content is available under
CC-BY-SA
unless otherwise noted.