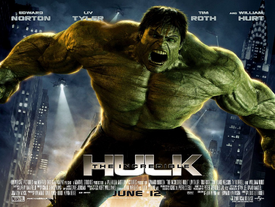 The Incredible Hulk is a 2008 American superhero film based on the Marvel Comics character the Hulk, produced by Marvel Studios and distributed by Universal Pictures. It is the second film in the Marvel Cinematic Universe (MCU). The film was directed by Louis Leterrier, with a screenplay by Zak Penn. It stars Edward Norton as Bruce Banner, alongside Liv Tyler, Tim Roth, Tim Blake Nelson, Ty Burrell, and William Hurt.
Bruce Banner becomes the Hulk as an unwitting pawn in a military scheme to reinvigorate the supersoldier program through gamma radiation. On the run, he attempts to cure himself of the Hulk before he is captured by General Thaddeus Ross, but his worst fears are realized when power-hungry soldier Emil Blonsky becomes a similar, but more bestial creature.
Why It's Great
Edit
A definite improvement over the 2003 Hulk Film.
The story is good.
The acting from Edward Norton (Bruce Banner), Tim Roth (Abomination/Emil Blonsky), and William Hurt (Gen. Ross) were incredible in their respective rolls.
Has a good balance of story/drama and action, unlike the 2003 Hulk.
The action sequences are cool to watch.
The cinematography is really good, and subtlety feels like a comic.
Bad Qualities
Edit
The special effects, while good by 2008 standards, don't look the best now.
Reception
Edit
The review aggregator website Rotten Tomatoes reported a 67% approval rating with an average rating of 6.2/10 based on 225 reviews.
Box Office
Edit
The Incredible Hulk earned $134.8 million in North America, as well as $128.6 million internationally for a worldwide total of $263.4 million.
External links
Edit
Community content is available under
CC-BY-SA
unless otherwise noted.